There are many ways to cook chicken wings, but my favorite is my dad's specialty dish—salted chicken wings.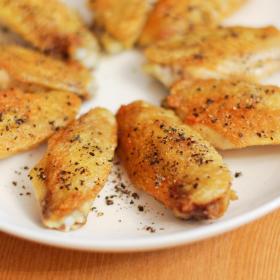 Ingredients
9

Chicken Breast

10

g

salt

vegetable oil

Black pepper
Instructions
The chicken wings are washed clean, squeezed with water, mixed with salt and marinated in the refrigerator for more than 6 hours.

Open the lid and turn the chicken wings in turn. The purpose of the lid is to make the chicken wings warm and ripe, while preventing the water from being dried.

When you take it out, you can sprinkle with black pepper powder or cumin powder or chili powder according to your preference, or you can add nothing, original flavor.