How to cook Blueberry yam?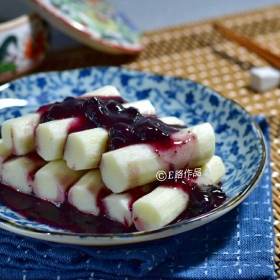 Blueberry yam
Blueberry yam is a super simple, super delicious appetizer
Ingredients
600

g

yam

30

g

blueberry jam

5

g

salt
Instructions
Processing of yam: Just peel off the skin and cut it into segments. After cutting, place it in a plate and steam it on the steamer (about 10 ~ 15 minutes).

⚠Attention should be paid to this process. Peeling yam should be protected with rubber gloves. The yam juice can irritate the skin and cause a very itchy sensation. So be careful.

Blueberry sauce: Blueberry desserts can be made by yourself or commercially available. This time I chose a commercially available bottle with blueberry granules in the jam. The taste and taste are not bad. But this is not the point! The point is to add some salt to the blueberry jam. Then mix well, and your blueberry sauce is done.

combination:

Let the steamed yam cool down and drizzle with the blueberry sauce.
Notes
The salted blueberry sauce will become smoother, not too sweet, and more suitable as a seasoning sauce for dishes.