How to cook Cup cake?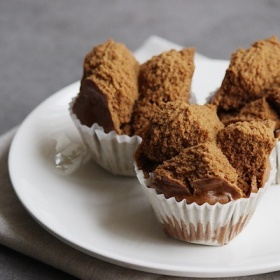 Ingredients
100

g

Sticky rice flour

30

g

flour

50

g

brown sugar

95

g

Baking powder

1

g

baking soda
Instructions
The steamer is filled with water and boiled. Prepare the paper film and put it in a silicone cup for later use.

Sticky rice flour, low flour, baking powder, and baking soda are stirred and set aside. Put brown sugar in water and melt to get red dessert. Pour brown sugar water into the mixed flour and stir with egg until the batter is smooth and free of flour particles.

Pour the batter into the mold and put it in the steamer with boiling water.
Notes
1. Sugar cannot be reduced too much, otherwise it will not bloom.
2. Be sure to boil the water and the water in the steamer is sufficient. Steam the batter immediately after filling it into the mold.
3. Please choose a mold with a wide cup mouth, please fill more than 9 minutes, it will not bloom if it is smaller.
4. If you want to add other flours to increase the taste, such as buckwheat flour, sesame flour and the like, just subtract the amount of other flours you want to add from the amount of sticky rice flour.
5. If the taste of steaming in 15 minutes is moist and you don't like it, you can improve it by steaming for a while.
Nutrition
Nutrition Facts
Cup cake
Amount Per Serving
Calories 716
Calories from Fat 18
% Daily Value*
Fat 2g3%
Sodium 10358mg450%
Potassium 143mg4%
Carbohydrates 178g59%
Protein 9g18%
Calcium 5624mg562%
Iron 13mg72%
* Percent Daily Values are based on a 2000 calorie diet.