Easy to get started! Out of the pot is super delicious!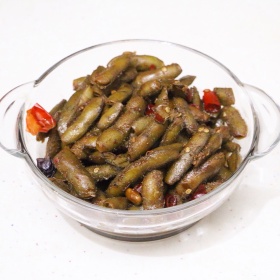 spicy green soy bean
This recipe is spicy, you can increase or decrease the pepper according to your taste
Ingredients can also be increased or decreased according to the amount of green soy beans, here is 250g
Print
Pin
Rate
Ingredients
250

green soy bean

25

red pepper

5

Garlic

2

Star anise

2

Zanthoxylum bungeanum

1

Fragrant leaves

2

Oyster sauce

2

thin soy sauce

3

thick soy sauce

3

salt

3

White sugar
Notes
1. If you like to eat hard green soy beans, open the fire early and collect the juice. Those who like soft beans will always cook on low heat or throw them in a pressure cooker for 5 minutes.
2. Salt must be added when half of the soup is left, otherwise it will not taste
3. Don't drain the soup completely, leaving a little soaked in green soy beans will be more flavorful
4. Put it in the refrigerator and refrigerate it in the summer to taste better
Nutrition
Nutrition Facts
spicy green soy bean
Amount Per Serving
Calories 1269
Calories from Fat 198
% Daily Value*
Fat 22g34%
Sodium 1354mg59%
Potassium 7427mg212%
Carbohydrates 213g71%
Protein 58g116%
Vitamin A 93147IU1863%
Vitamin C 3819mg4629%
Calcium 406mg41%
Iron 19mg106%
* Percent Daily Values are based on a 2000 calorie diet.