Hong Kong has also caused lemon prices to soar because of this program. It is sweet and sour, simple and delicious, and home-cooked.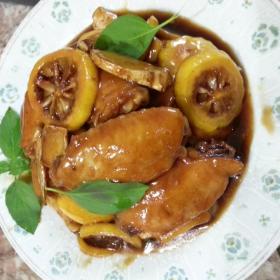 Ingredients
500

g

Chicken Breast

Crystal sugar

8

Ginger

thin soy sauce

thick soy sauce

White sugar

1

lemon
Instructions
Heat the pan, add the oil, and place the ginger. After the oil is hot, put the chicken wings and stir-fry

Stir-fry until the chicken wings are discolored, add the mixed sauce and lemon slices. Use a big fire and keep frying. It is especially easy to stick to the pot because of the presence of sugar. So keep flipping. About 15 to 20 minutes, when the juice becomes thick, you can turn off the fire.