Children at home prefer meat floss on weekdays, but they are worried about the selection of ingredients and bad additives outside. Yesterday I read Teacher Juan Juan's post. It was a big surprise. The bread machine can also be used for meat floss. It is really a small machine.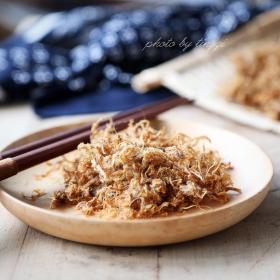 Making bread floss with a bread machine
The easiest way to make pork floss at home
Print
Pin
Rate
Ingredients
700

g

Pork

25

g

White sesame

15

g

thin soy sauce

15

g

thick soy sauce

30

g

vegetable oil

60

g

White sugar

6

g

salt

3

g

ginger
Notes
Floss requires pure lean meat. I like pork loin, which is very tender.
Don't cut the meat pieces too small, cut them a little, because the meat will shrink when cooked. Cut into small pieces of meat, the floss fiber is not good-looking and very broken.
In order to save time, I used a pressure cooker to cook the meat pieces. Without a pressure cooker, I can cook in an ordinary pot. After the simmer is finished, use an ordinary pot to boil and turn to low heat for 15 minutes.
The operation of the whole bread machine is very simple. Put the thin strips of meat scattered with a rolling pin directly into the machine and execute the "Jam" procedure twice. The last 20 minutes of the two procedures are not necessary. If you are afraid of trouble, you can also make it twice. Program execution ends.
If the pork jam is still wet after the two jam procedures are completed, you can add another stir fry procedure, or you can fry it in a wok for a while and let the steam evaporate.
The bread maker has a self-protection function, so after the first procedure is finished, the temperature of the inner container drops to 45 degrees, and the second procedure can be started again. The temperature reduction halfway does not affect the effect. After the meat floss is done, it needs to be sealed and stored. You can also keep it in the freezer.
Nutrition
Nutrition Facts
Making bread floss with a bread machine
Amount Per Serving
Calories 2477
Calories from Fat 1719
% Daily Value*
Fat 191g294%
Cholesterol 504mg168%
Sodium 2721mg118%
Potassium 2126mg61%
Carbohydrates 66g22%
Protein 123g246%
Vitamin C 5mg6%
Calcium 342mg34%
Iron 10mg56%
* Percent Daily Values are based on a 2000 calorie diet.